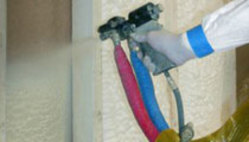 At North Florida Spray Foam, Inc., we strive to stay at the forefront of residential and commercial insulation service. That means working primarily with one of the best insulation materials on the market: spray foam. But the secret to our foam insulation success isn't just the material itself. We also offer some of the best workmanship in the Tallahassee area. If you're looking for a spray insulation contractor with the experience, skill, and training to get the job done right, call North Florida Spray Foam, Inc. today!
Since 2006, we've been pleased to bring superior spray foam insulation service to home- and business owners in and around Tallahassee. Whether you're completing construction on a new building or you want to upgrade to insulation foam in an older structure, you can count on us. We'll travel up to 100 miles outside of Tallahassee to meet your spray foam needs. Plus, we offer emergency services, so if you need spray insulation services outside of regular business hours, we'll do our best to get to you as soon as possible.
As a licensed, insured, and Better Business Bureau–affiliated foam insulation installer, North Florida Spray Foam, Inc. is your trusted residential and commercial insulation solution. We're strong supporters of our local community, and we work hard to provide great customer service and a quick turnaround time, all at a price that's competitive for the spray foam insulation industry. When you hire North Florida Spray Foam, Inc., you're getting the total package.
Why Choose Spray Foam?
The biggest reason to choose foam spray insulation over traditional fiberglass or cellulose insulation is that it will save you money. By creating an impermeable barrier between your home's interior and the air outside, spray foam wall insulation keeps cool air inside in the summer and hot air inside in the winter. But that's not the only benefit to insulation foam. It can also keep allergens and pollutants outside, helping your HVAC system to work more effectively. Plus, foam insulation can block out excessive or unwanted noise from beyond your walls. If you're ready to make the transition to a more cost-effective, healthy, and comfortable home or workplace, call in the spray foam insulation contractors at North Florida Spray Foam, Inc. today.
How Spray Foam Works
Even tiny gaps, cracks, and crevices in your home or commercial building's foundation and structure can let air pass through, leaving the building vulnerable to weather, temperature, and pressure changes. That air transfer also means your heating and cooling systems have to work harder to maintain the optimal interior temperature. Unlike traditional batt insulation, foam spray insulation can seal all of those small openings, saving you money on your energy bills and making your building more comfortable. Demilec spray foam wall insulation, North Florida Spray Foam, Inc.'s preferred and authorized brand, expands to create a complete air barrier, no matter the size or location of the crack or void.
We are pleased to offer both open cell and closed cell spray foam. When you contact our team to discuss commercial spray foam insulation or residential spray foam insulation, we'll ask you about your insulation needs and the scope of the job. A few things to take into account when making a decision:
Open cell spray foam insulation expands up to 120 times its application volume to fill cracks. It forms a complete air barrier and provides good insulation, but is lower density and can be susceptible to moisture—which means it isn't suitable for exterior applications. Open cell spray foam insulation provides the best sound absorption of any insulation type.
Closed cell spray foam insulation provides the highest insulating value because of its high density. Because it solidifies quickly, it can also strengthen walls and resists water. Closed cell spray insulation can be used on exterior walls. Although it absorbs sound, its soundproofing is not as effective as open cell insulation.
North Florida Spray Foam, Inc. is proud to work with Demilec's SEALECTION 500 open cell spray foam insulation and Heatlok Soy 200 closed cell foam. Both applications are environmentally friendly and energy efficient. They will not settle, sag, or deteriorate. Plus, unlike older batt insulation, spray foam wall insulation is completely non-toxic—no HFCs, no HCFCs, no formaldehyde, and no asbestos. When you're looking for a proven, affordable alternative to Icynene system of spray foam installation, our system is exactly what you need.
Call or e-mail us now to learn more about how Demilec spray foam has been improving homes and commercial structures for more than 25 years. If you're ready to block out airborne dust and allergens, decrease mold and mildew growth, reduce exterior noise, and save both money and natural resources, schedule an appointment with one of our spray foam insulation installers! North Florida Spray Foam, Inc. is on the job and on your side.