If your attic isn't properly insulated, it will be almost impossible to heat your home effectively. Even the best furnace can't do its job if warm air is leaking out your roof! If you're finishing construction on a new home or you need to update out-of-date insulation, call in North Florida Spray Foam, Inc. today. We're experts in attic insulation, and we're ready to help.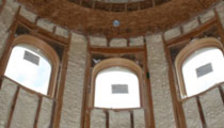 North Florida Spray Foam, Inc. is a full-service insulation installation company. We specialize in spray foam attic insulation because we firmly believe that foam insulation has many benefits over fiberglass batt insulation and cellulose attic insulation. Spray foam attic roof insulation is:
Effective at insulating an attic, with a higher R-value than batt insulation
Energy efficient because it fills every crack and crevice that might let interior air escape, allowing your HVAC system to work less
Green and completely non-toxic, with no HFCs, HCFCs, formaldehyde, or asbestos
Sound- and allergen-blocking
A great investment in your home or commercial space!
North Florida Spray Foam, Inc. works with both open cell and closed cell attic foam insulation. When you call us to discuss adding attic insulation, we can advise you on what type of spray foam is right for your building. We want to ensure that we install the right insulation for the attic you've got, because we don't believe in one-size-fits-all service.
At North Florida Spray Foam, Inc., we prioritize top-quality workmanship. Every time we install attic insulation, whether it's in a private home or a business location, we're committed to giving you our absolute best. Our entire insulation installation team is licensed and insured, which means you can leave your space in our hands, worry-free. We also stand behind our work.
But that's not all that makes North Florida Spray Foam, Inc. Tallahassee's answer for attic foam insulation. We also strive to use the best possible materials. We're an authorized contractor for Demilec insulation, trusted for more than 25 years in the attic insulation industry. And if you want great customer service, North Florida Spray Foam, Inc. provides that, too. We're a Better Business Bureau­–affiliated company, and we're dedicated to serving our community.
Since 2006, we've been proud to offer insulation for the attic, crawlspace, walls, ceilings, and even roof decks for local home- and business owners. If you need insulation in the attic on your property, call us today! No attic is too large for us to take on, and no crevice is too small for our spray foam to fill. Improve the air quality in your building, control temperature and moisture levels better, and save both energy and money by hiring North Florida Spray Foam, Inc. as your attic ceiling insulation contractor. We're eager to work with you.